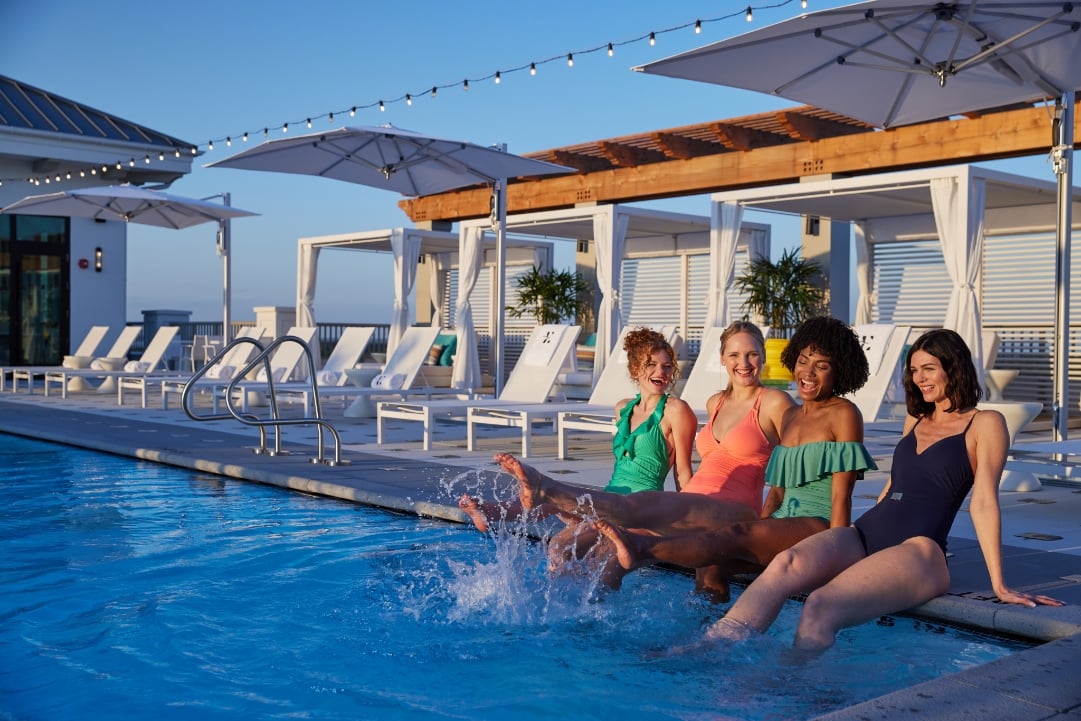 Experiences
Welcome to Hotel Effie. We're so glad you're here. Included in your stay and destination fees are various activities intended to inspire and delight you. Whether it's an early morning bike ride or late-night disco party, Hotel Effie warmly invites you to experience something special. Won't you join us?
Calendar of Events
Sound Healing Sessions
Where:
Longleaf - 2nd Floor
When:
Thursdays at 7:30 am
Relax your mind and body to instrument vibrations
Public Welcome
Wine and Cheese Tasting
Where:
The Lobby Bar
When:
Sunday, July 25th 3:00 PM – 5:00 PM
Celebrate National Wine and Cheese Day with us at TLB! Sip on bold reds and crisp whites as we pair them with savory and delectable cheeses. Learn about Old Well vs. New Well wines and how to select the perfect flavor profile at your next dining experience.
Sunrise Rooftop Yoga
Where:
Ara Rooftop
When:
Every Wednesday 7:30am - 8:30am
Saturday 7:30am – 8:30am
Public Welcome
Acoustic Music Series
Where:
Ara Rooftop
Enjoy relaxing melodies as the sun sets over the Choctawhatchee Bay.
When:
Tuesday - Sunday 5:00 pm - 7:00 pm
11 am - 2 pm (Sunday Brunch at Ovide)
Public Welcome
Live DJ
Where:
Ara Rooftop
Get moving with the up-tempo beats by local DJs.
When:
Tuesday - Saturday 7:00 pm - 10:00 pm
Public Welcome
Silent Disco
Where:
Ara Rooftop
Keep the party going with your own private headphones!
When:
Thursday - Saturday 10:00 pm - 12:00 am
Public Welcome
Bike Rentals
Guests of Hotel Effie receive two (2) 4-hour bicycle rentals each day of your stay.
Call 850.267.6363 for more information
Kayaking and Boogie Boards
Guests of Hotel Effie receive one hour of free kayaks and boogie boards.
Call 850.267.8171 for more information
Tennis
Guests of Hotel Effie receive one hour at Sandestin Tennis Center. 24-hour advance reservation required.
Reservations are required. Call 850.267.7060.
Sandestin Golf
Game-changing challenges, spectacular views of the Choctawhatchee Bay, marshes, wetlands, pine forests are just a few words to describe the four golf courses located at Sandestin Resort.
Resort Tram
Access to Sandestin beaches via tram pickup in front of Hotel Effie.
The resort tram arrives approximately every 30 minutes. Check out the live tram map here.