The Effie Experience
Via VIE Magazine's website, written by Emme Martin
As my alarm goes off on Sunday morning, I begin to wish it wouldn't; however, I remember the upcoming occasion and am immediately filled with gratitude and relief. Soon I will be lying on a massage table for a soothing treatment, followed by a groovy jazz brunch with people whose company I enjoy very much. As someone who typically looks forward to an agenda-free Sunday, this was an exception I was more than excited about.
As I prepare for this Sunday Funday, I struggle to discern an appropriate spa/brunch outfit. Finally, after some deliberation, I settled on a cozy top and wide-leg pants. When in doubt, go with comfort, I remind myself. I put on some mascara and off I go to seize this day of pampering.
The venue of the day is the relatively new and buzzed-about Hotel Effie, located in Sandestin Beach and Golf Resort in Miramar Beach, Florida. Named after the owner's family matriarch, the boutique luxury hotel has a family element that emanates through the graciousness everyone working there seems to possess. Walking into the bright and spacious lobby, I feel transported to a swanky metropolitan city, minus the ostentatiousness that often comes with that. The modern yet breezy design is refreshing, a departure from the typical beach casual decor we Floridians are so used to seeing. Perhaps it's because I am finally off Scenic Highway 30-A that I feel transported? Anyone who lives or stays on 30-A knows the running joke of Destin/Sandestin being a faraway "big city." So take it from me, Hotel Effie came to play.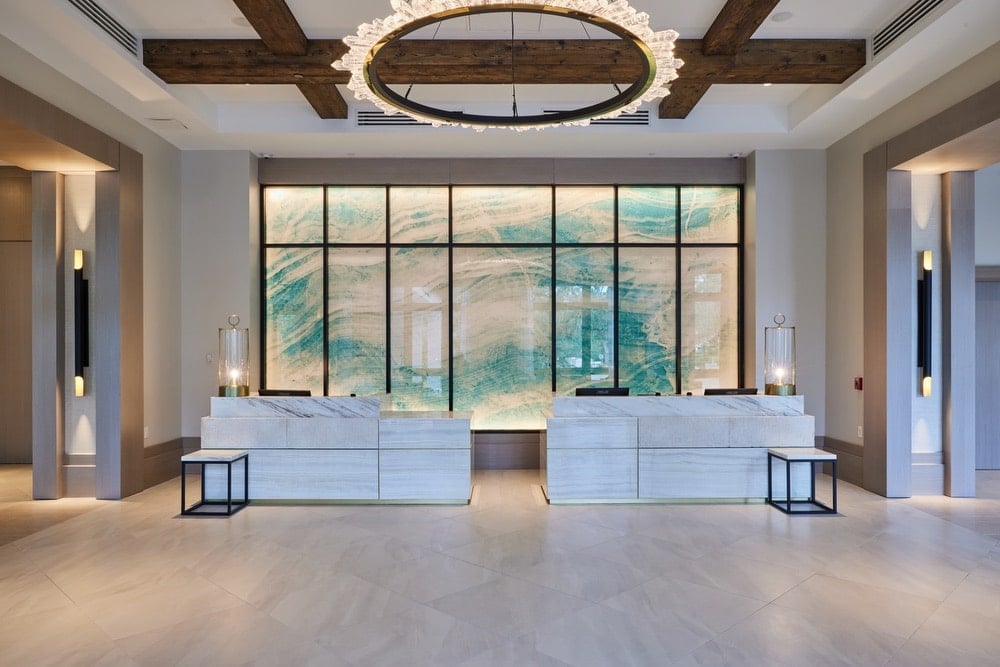 I soon link up with my group of ladies, and we instantly laugh at the diversity of our outfits. We all relate to the struggle of getting dressed as Florida weather continues to avoid admitting it's fall now. Small talk out of the way, we head to the second floor where Spa Lilliana is calling our names.
The entry into the spa is everything you'd want it to be. My senses are delighted by the aromatics filling the air, and the calming sounds of the playlist I can only imagine is titled "Spa." One of my favorite aspects of Hotel Effie is its capaciousness and commitment to wide hallways. Spa Lilianna is no exception, as there's so much room to breathe here, and I feel instantly at peace. Further approval in my mind is granted as I spot some of my favorite name-brand products lining the walls when we make our way to the approachable attendant waiting at the end of the entryway.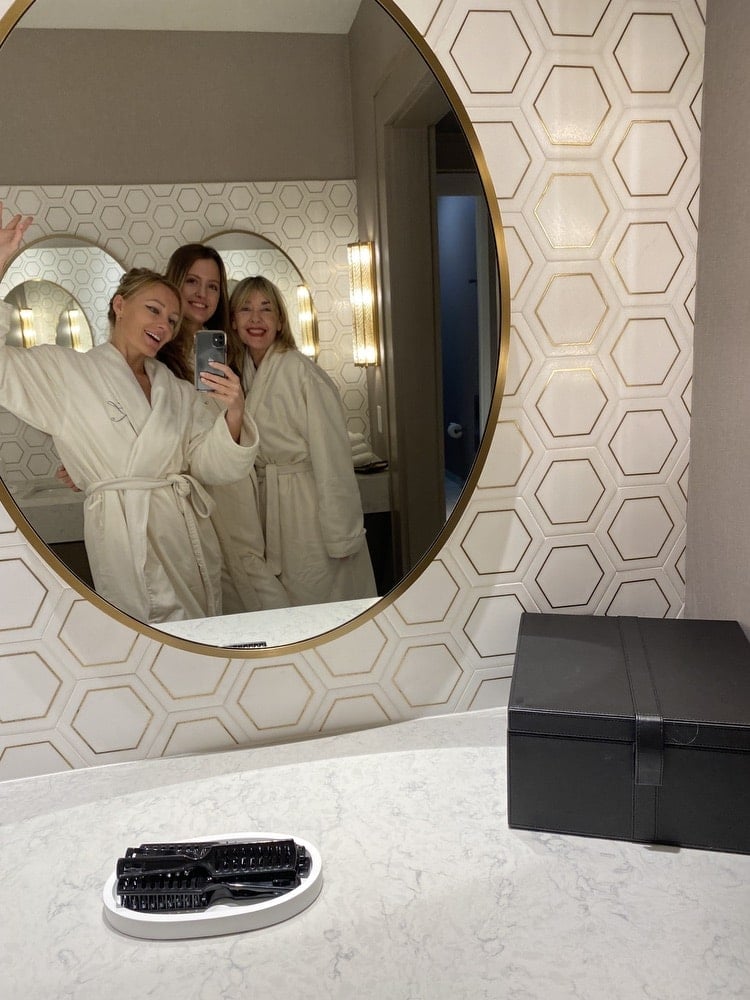 We continue to the women's changing room, where we are provided with a robe and the kind of slides that mold to your feet in a noticeably comfortable way. As a right of passage, we have to take a mirror selfie in our robes. (If not, did we even go to the spa?) I am unwilling to admit how many of these we took, but let's say that we may have been a few minutes late by the time we all agreed on the best one. Finally, with Instagram duties done, we head out of the dressing room to meet three angelic ladies, our service providers for the day.
I am greeted by Jennifer, who will be giving me my massage. She verifies my appointment is for a relaxation massage as we make our way to the treatment room. I make the last-minute decision to switch to a deep tissue massage when I remember the knot in my back that has been needing an eviction notice. Jennifer is unfazed, and I instantly trust she knows what I need when I tell her I sit at a desk most days. My shoulders need all the love they can get.
As I situate on the massage table, I remember anticipating this moment when I reluctantly got out of bed that morning. "You made it," I think to myself. Jennifer begins the service by placing a magical smell under my face pillow to promote mind and body calmness. Once my senses are properly soothed, she begins the massage by gently prepping my muscles for what is to come.
This is my first deep tissue massage, and I have been warned of the pain that is to come but happily welcome it, knowing the relief that will follow. Anything for a looser back, I tell myself. Jennifer makes sure I am OK with the pressure before going into full deep-tissue mode. As I start to feel the intense pressure, I realize why some people choose to forgo the deep-tissue option. However, Jennifer's intuition is evident as she navigates all of the tight areas in my back, giving me exactly what I need. I am flattered when she jokes that I would be crying if I were a man, pointing out the impressive pain tolerance women inherently possess. I start to zone out as Jennifer does her magic, and I reap the benefits. After an hour in her care, the sense of peace I feel is what my body and mind had been craving for a long time.
I consult with Jennifer after the massage to hear her thoughts on preventative options for tight muscles, and she recommends a local chiropractor that did wonders for her. Seeing that Jennifer has my complete trust at this point, I tell her I plan to take the advice. Then, she leads me to the relaxation room, where we part ways after she hands me a glass of sparkling rosé. By now, I genuinely feel like I am floating on a cloud.
The relaxation room accurately lives up to its title. Plush chaise longues line the walls of the appropriately dimmed space. The centerpiece is a floor-to-ceiling light fixture that serves as an elegant divide between the two sides of the room. Frankly, it reduces the chances of making awkward eye contact with whoever is across from you. I sip on my bubbly while I continue to soak up all the relaxation I possibly can. One of my girlfriends joins me, and we make sure to keep a low whisper as we discuss our satisfaction. The vibes are declared immaculate.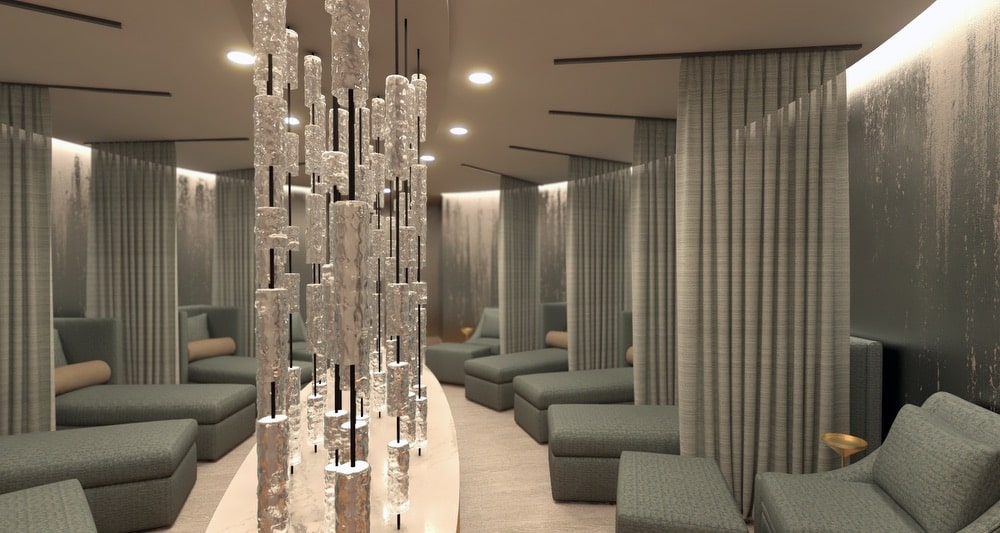 As time goes by too quickly, we realize it is time for our brunch reservation downstairs. So we head back into the dressing room, change back into our outfits, and freshen up with the complimentary products Spa Lillianna provides. I am always so impressed when a spa knows just what you need. There are disposable hairbrushes, facial mists, hair products—I am talking the works. Feeling like completely new people than when we arrived, we said goodbye to the exceptional attendants and headed downstairs. I must say, not having to leave the premises to get to your next destination is truly a fabulous feeling.
Jazz fills the atmosphere as we galavant toward Ovide, the fine-dining establishment led by acclaimed Georgia-based chef Hugh Acheson. As a lover of both jazz and brunch, I am thoroughly excited yet still trying to maintain the sense of calmness I just achieved. The hostess asks us if we would like to be close to the music, and my friend quickly says no, thank you. I was satisfied with this decision as the hostess stand was the farthest from the music, and the jazz was already sufficiently loud for my preference, although, I appreciated the option!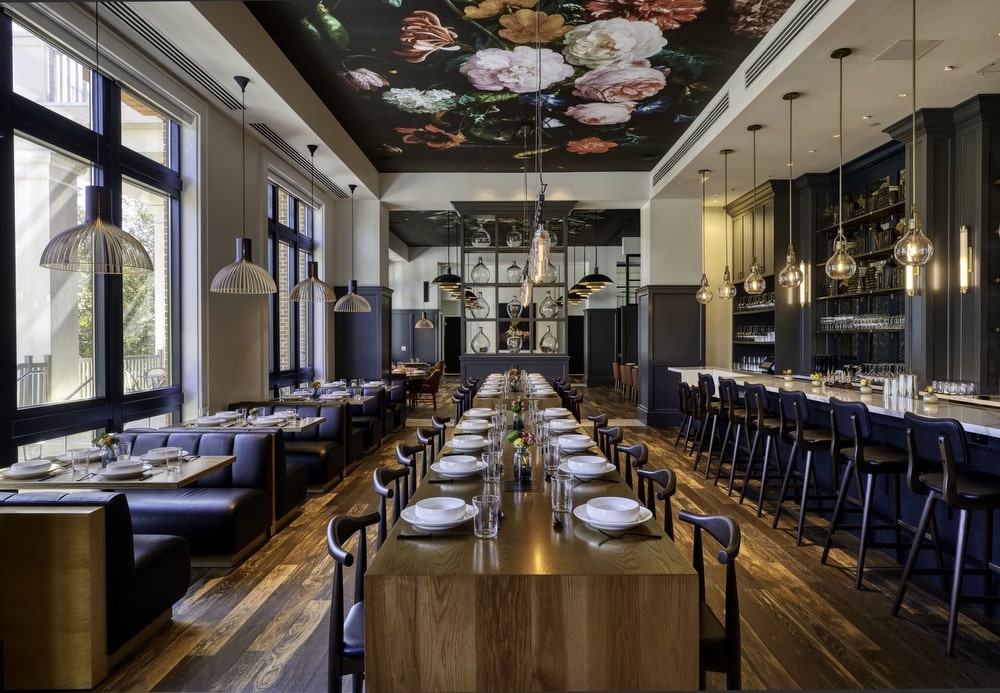 We are seated at our table with the appropriate amount of jazz, and I feel cozy in the lively atmosphere. There are a decent amount of people here, and it is obvious why. I can't stop looking at the ceiling, covered in a beautiful colorful floral mural—perfect for low-angle selfies. The touches of gold and florals in the decor are a pleasant contrast against the dark wood floors and bar. Ovide has a cohesiveness that is rare to see in a restaurant that has been open for under a year.
We order mimosas, as expert brunchers do, and look over the menu. I am impressed by the cultured cuisine. Dishes such as tomato shakshuka and short rib hash are a fun diversion from the typical bacon and eggs. Our waiter recommends the smash burger as his favorite, and I make a note to myself to try this one day. There's something about when a waiter recommends a burger, you know it's going to knock your socks off. However, this day, I was in more of a crab benedict mood. Some may describe this as intuitive eating. The rest of the group ordered the ham quiche and another crab benedict. We ignored the etiquette of not ordering the same thing, as the crab benedict was just too irresistible!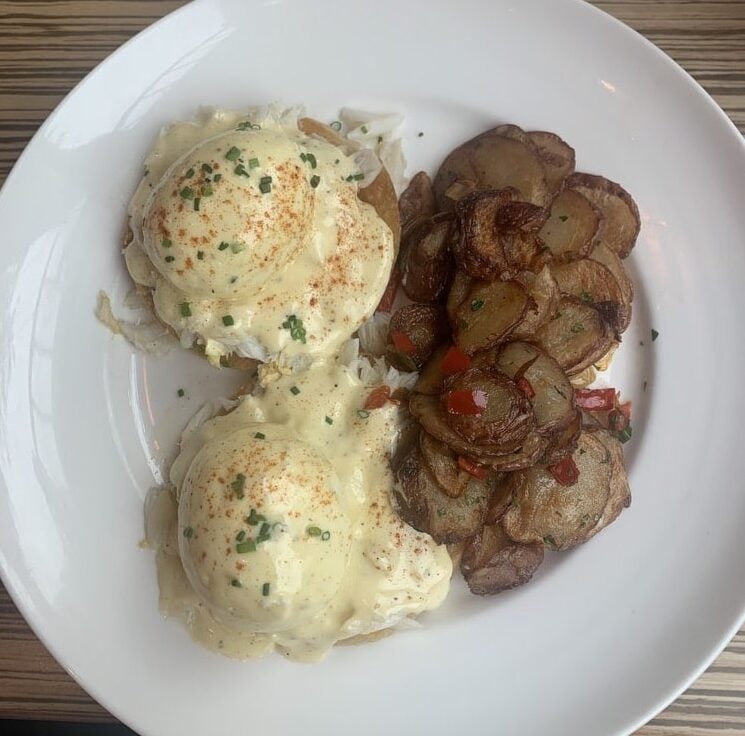 Our food arrived at the perfect time as we were mid-way through mimosas. The presentation was even better than I imagined. There is something sexy about hollandaise sauce next to potatoes, no? Regardless, the flavors were phenomenal. The eggs were perfectly poached in that satisfying way that, when poked, the yolk oozes so brilliantly, and the crab was incredibly fresh tasting. My friend who ordered the quiche claimed it was one of the best she has ever had.
We finish our brunch with an undeniable feel-good feeling. I can only imagine the luxury of staying at Hotel Effie and being able to go back to one of the rooms for a post-massage-and-brunch nap. Perhaps another time. We breezily make our way through the lobby to meet the valet outside. (I must say, the valet experience at Hotel Effie is so seamless.) I say goodbye to my lovely friends as the enthusiastic valet fetches my car. I am thankful it is only 1:00 p.m. on the way home, as I still have plenty of Sunday left.
Nonetheless, my spa/brunch day exceeded the expectations I previously held. I was pleasantly surprised at the attention to detail Hotel Effie exuded in every aspect of the experience. The friendly and gracious employees, incredible massage, fabulous brunch, and company were more than worth my reluctant morning wakeup. Hotel Effie provided the Sunday Funday I didn't know I needed. We all deserve to treat ourselves sometimes, and this was the perfect place to do so. So take it from me, grab some of your closest friends and treat yourselves to a spa day at Spa Lillianna, and indulge in some brunch at Ovide afterward. You certainly won't regret it.